How We Started
After 12 years of experience in Florida, Cherise Rachal, along with her husband, Kenton, moved back to her hometown of Apollo, Pennsylvania with a goal of opening her own child care facility. Her goal became a reality in June of 1999 with the opening of Appleseed Learning Center.
Our Experience in Child Care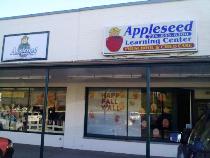 The desire to open her own child care center came from her eagerness to provide quality early childhood programs to children in a country setting that modeled the cutting-edge early learning centers from her Palm Beach County home.
While in Florida, Mrs. Rachal had directed several child care programs serving as many as 250 children. She also spent more than 10 years training early childhood teachers and caregivers, teaching pre-service and in-service courses for Palm Beach County Schools, Vocational Education.
This experience helped form her vision for a child care center. Also for 10 years, she served as an adjunct faculty member of Palm Beach Community College, where she enjoyed teaching the Child Development Associate Credential (CDA) curriculum to her students. The highlight of this experience was traveling throughout Palm Beach County, observing her students in child care centers and critiquing them.  She even taught child care classes at a military base in the Bahamas.
Other Experience Leading to Child Care
During her last year as a Florida resident, Mrs. Rachal worked as a professional children's portrait photographer, which also had her traveling to many of the high quality child care centers that she had visited as a teacher.
This inside look into many centers informed her dream of a child care center. She continues to enjoy photography as a hobby and has been published as a freelance photojournalist. Her future goal is to publish several children's books she has written.
An Expert in Early Child Care and Education
Cherise Rachal is a graduate of Kiski Area High School.  She received her Bachelor of Arts degree from Bethany College, Bethany, West Virginia. She has completed graduate work in early childhood through Wheelock College, Boston, Massachusetts. Mrs. Rachal is an active member of the National Association for the Education of Young Children (NAEYC).  She has served at the local level as a presenter at workshops and conferences on child care and education, as well as attending many national conferences.
Mrs. Rachal has volunteered at the Children's Museum of Pittsburgh and served on the Act 48 Committee at Kiski Area High School. She is the child care center delegate of Kiski Area's School Readiness Transition Team, which serves to improve the transition of young children from preschool to kindergarten. She, along with Appleseed Learning Center, was selected out of more than 50 child care facilities to participate in a pilot program for the ARIN IU called Get Ready to Read.
Our Family
Mrs. Rachal resides with her husband and son, Jesse. They enjoy camping with their spunky Australian Shepherd, Bella, and curling up at home with several rescued Siamese kitties. Her husband and son also help around our child care center.
Appleseed Learning Center
Nurturing Today's Children, The Seeds of Tomorrow
Call 724-845-8300 today!